We support all processes for the resin processing and aluminum machining, ranging from planning and development to testing and mass production. The company specializes in developing solutions for a precise resin processing according to the requirements and the budget of the client.
Orders can be processed in English, German and Japanese.
The reasons for our high quality, high precision and speedy production
1. Selection of the machining center according to requirements
Organization and selection of equipments depends on the project in order to achieve optimal mechanical work.
By rotating various kinds of machinery, we maximize benefit of their performance.

2. The right man for the job
We place an emphasis on selecting the appropriate staff for each Job.
The advantage of having the "right man for the job" is that errors or losses are reduced.

3.The promotion of expertise sharing
We have a core system of staff sharing their wide range of aluminum machining and plastic resin processing in-house expertise in order to improve skill level and production quality, which helps us to reduce production time.
 
5-axis machine: Delivers high-quality and high-precision prototype fabrication (with pallet changer)
Benefits of the 5-axis machine with pallet changer
1.During processing, the materials are prepared on a transfer pallet and sub-pallet which eliminates time-wasting and thereby ensures fast production time.
2.Variety of processing and quick production is available with pallet changer.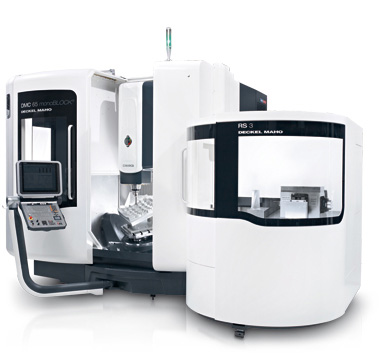 DMC 65 monoBLOCK
・Equipped with automatic pallet changer with three pallets
・500 Kg of pallet load capacity
・ø 630 × 500 mm maximum work piece dimensions
・Optimal accessibility to the work area and setup area
・Only 16.5m2 foot print(incl. Default chip conveyor)
・Complete package incl. Swivel rotary table and chip conveyor


 
New technology

New casting method by the fusion of silicon and metal
Conventional silicon molding decreases accuracy with production volume increases
Also, the properties of silicon are affected by thermal expansion which also affects the accuracy.
Therefore, we developed "hybrid silicon mould" which can utilize the characteristics of conventional silicon molding while maintaining the accuracy.
New silicon hybrid moulds have metalized areas that need transparency where necessary and dimensional accuracy.
Simply put, it is molding with the features of the silicon and metal.
Furthermore, since the hybrid silicon mould is adapted to suit small-lot production, you can reduce the production costs.